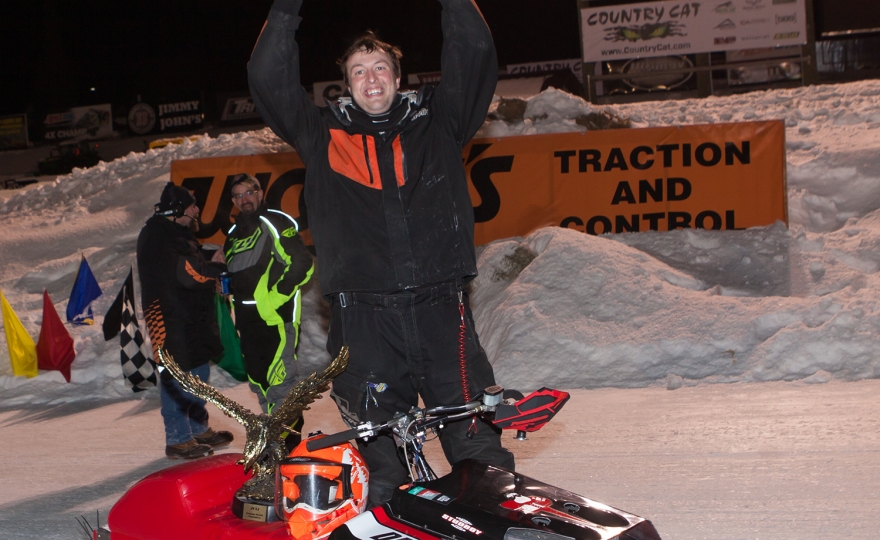 2017 Eagle River Vintage Snowmobile Championship
The 54th Trigs Smokehouse World Championship Vintage Derby Snowmobile presented by Woody's was held January 12th to the 15th. The weekend started out Friday with a frigid temperature of -16 degrees. The skies were sunny, winds were light and the temperature moderated to a wonderful +24 degrees by Sunday afternoon.
The winner of this year's Vintage World Championship was number 52 Curtis Pederson of Fargo, ND. Peterson piloted a 73 Yamaha 433 SR, which was a completely new sled and motor this year. In the recent years Peterson raced a Polaris finishing in the top three.
The Vintage World Championships featured 12 sleds that must be 1985 and older 440 Free Air sleds. By 46 entrees running time trials and then taking the top 36 sleds into a round robin style qualifying for the top ten that will start the front row, then a last chance qualifier will be run taking the top 2 sleds to the second row for the big race on Sunday.
When the green flag lifted, it was all Jacob Goede for the first 5 Laps. Number 72 Goede running his Polaris Starfire was run down and passed by number 426 Bradee Mlaskosh of Willow River, Mn on his Yamaha. Mlaskoch lead for 2 laps when the race needed to be red flagged due to a crashed sled on the track. On the restart it was once again Goede with a great start and returning to the lead. Goede maintained the lead until the final white flag lap when a very hard charging number 52 Peterson took the lead going into corner three. Pederson maintained the lead to the checkered flag. Placing second was a first-time qualifier for the WC Justin Ernst on another Yamaha, rounding out the top three in third was the veteran Jacob Goede on his Polaris.
The Vintage weekend at Eagle River is much more than just the Vintage WC. There is also more than 40 other Vintage Classes run totaling more than 800 entries. All classes start qualifying Friday morning. Qualifying continues through the day on Saturday until all classes have the final ten sleds, which will then race for the class Championship on Sunday. Drivers come from many US states as far away as Arizona and Alaska. Canada is well represented, as well as Sweden.
All in all it was a great weekend of Vintage Racing at the Derby Track. There were some bumps and bruises, a few sleds in the bales, but no serious injuries were reported.
Article submitted by the VSCA Crew. Photo credit goes to Dave Olsen at www.Speedgraphis.com